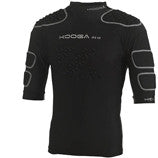 KOOGA IPS VII RUGBY BODY PROTECTION BLACK/SILVER
Stock Availability:
In stock
$26.00 $28.00
ips vii.this item is kooga's 2012/13 ips vii.
the new kooga ‰ۡìýìáimpact protection system‰ۡó» pad range offers a ground breaking new look for kooga. the pad cm̴_ coverage has increased for greater protection, while the pad shapes and position are ergonomically designed for ease of movement and comfort during play.
product features:
* mould foam is a ‰ۡìýìájointed‰ۡó» foam which allows a much better adhesion to the target areas of the body that require protection and has been introduced into the shoulder pads.
* contrast colour flat over lock stitching around pads and mesh panel.
* textured ‰ۡìýìák‰ۡó» padding to sternum, textured padding to both shoulders ‰ۡìýìámould foam‰ۡó».
* double padding to both biceps.
* ventilated mesh to spine.
* 92% polyester 8% elastane, 100% polyester mesh ventilation panel to back.
Related products